CSP plants use mirrors for harnessing and concentrating direct solar radiation onto a receiver to heat up a themal fluid, which drives a turbine, converting heat into mechanical energy and then into electricity.

CSP plants are nothing more than steam power plants, which produce power from high temperature heat. The crucial difference with respect to conventional thermal power plants is that the fuel which drives the turbines is not gas, coal or oil, but the sun.
There are various CSP technologies available today:

Parabolic Trough Technology
Parabolic shaped mirrors arranged in long rows throughout the solar field of the power plant, reflect and concentrate solar radiation at at the receivers. A thermal transfer fluid within this receivers acts as a heat carrier and brings this heat to the heat exchanger in the power block of the facility where the steam is generated to feed the turbine and produce electricity.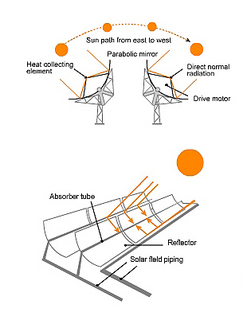 Tower Technology
Consists of a solar field made up of heliostats (large individually tracking mirrors) which reflect and concentrate sunlight onto a central receiver located on top of a tower. A heat transfer medium located in this central receiver absorbs the highly concentrated radiation reflected by the heliostats and converts it into thermal energy to generate steam, which expands in a turbine coupled to a generator to produce electricity.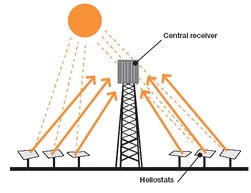 Sterling Dish Technology
A parabolic dish shaped concentrator used to concentrate sunlight onto a receiver located at the focal point of the dish.
The receiver transfers the sun's energy which converts the energy into power in a small engine or micro turbine connected to the receiver by an antenna like structure. The Sterling system can withstand heat up to 750 ° C.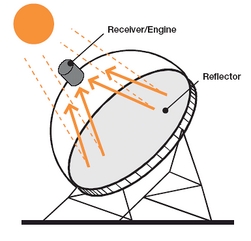 Linear Fresnel Technology
Consist of the use of a linear series of mirrors which can rotate around its axis to reflect rays from the sun directly towards a linear receiver located above them, which may be single or double. The mirrors can be flat or slightly curved. Generally, these systems are being proposed for the direct generation of low temperature steam which is directly connected to steam turbines or for preheating the feed water of a conventional thermal power boiler. The operating temperature of the first round of these projects is close to 300˚ C, which allows effective and reliable use receivers. Some promoters are operating at temperatures close to 500 ˚ C in order to fit these systems to higher efficiency turbines.